Banana Pancakes
Could it be possible that banana pancakes can fit into your fitness and nutrition plan, and yet still be delicious? Surely these healthy pancakes have to taste like cardboard! Guess what you guys! This banana pancake recipe is so good that it will get you out of bed in the morning. Just conjuring up the image in your mind will send you straight to the kitchen where the chef in you will concoct some variety of these protein pancakes. Maybe today they will banana, maybe tomorrow they will be chocolate chip, like Emmy's in the video, or maybe they will be peanut butter pancakes!
All you have to do is take Emmy's basic pancake recipe and up your own spin on it! You can make these pancakes so easily and quickly! They can fit into your morning, whether rushed or, more pleasantly, leisurely. Add you favorite coffee brew, and you have the best healthy breakfast ever! I eat these almost every morning for breakfast, and sometimes for dinner too!
Healthy Pancake Recipe Hack
Guys! The pancakes have zero carbs, 36grams of protein, and only 250 calories before you add in whatever you want. That transfers to no blood sugar swings that you get with regular pancakes that are made with flour. The protein powder in this recipe replaces the need for flour, so your energy will be boundless as you move through your morning. You won't be running for a sugar fix come midmorning because your body will have been thoroughly nourished.
I love to have this meal as my post workout because the protein in the eggs and protein powder help my muscles recover and the berries give me energy and also help eliminate post workout soreness. Plus, they are so good that it feels like I am totally having a cheat meal, without the cheat! Your pancakes will actually help you slim your waistline! Can that be possible?
Here is Emmy to show you how to make the basic recipe. Instead of banana, her choice is usually organic dark chocolate chips because she is a girl and they have chocolate! below the video I will tell you how to turn these into the banana pancakes of your dreams, including a few variations to make it interesting.
Pancake Recipe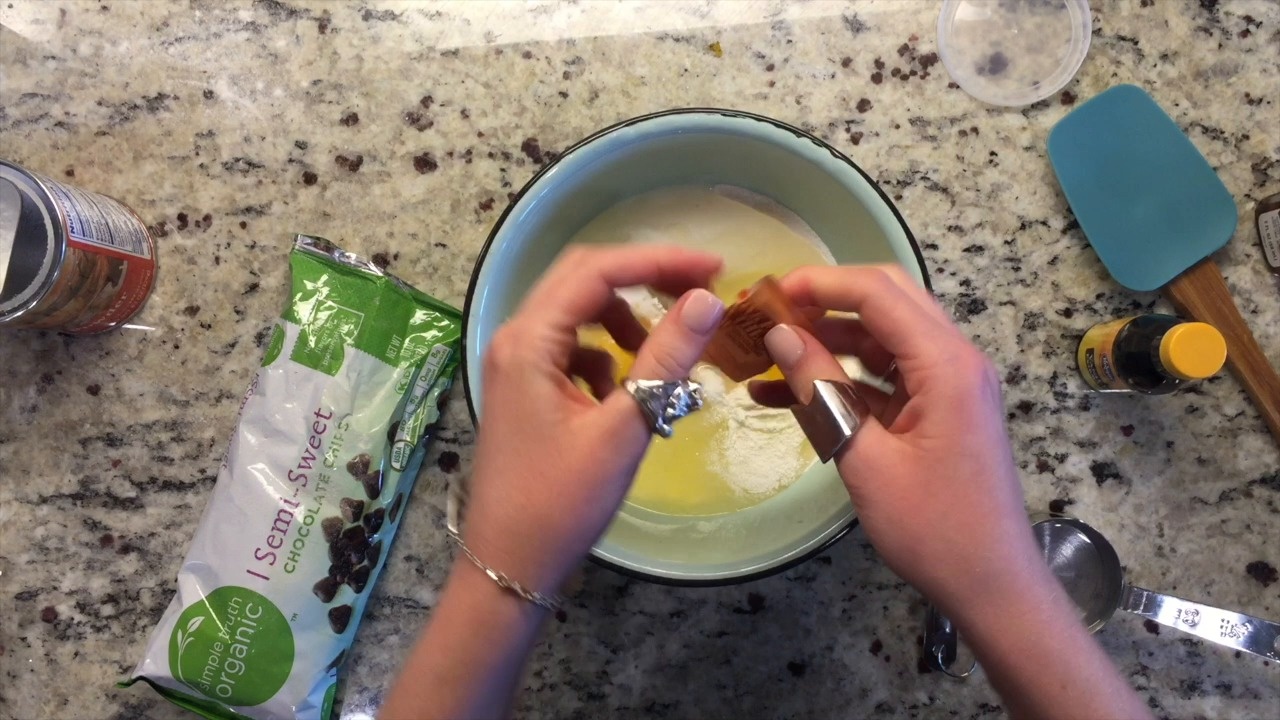 See what I mean? Are you on your way to get the ingredients so that you can make these pancakes right now?
Banana Pancake Recipe
What you need per serving:
1 scoop Quest Protein Powder for Baking. I like this protein powder because it is unflavored, leaving lots of room for my imagination. Also, my tastebuds like to call the shots.
1 egg plus 1 egg white. Sometimes I use 2 whole eggs. I like to get the nutrients from the egg yolk, but you may substitute 3 egg whites if you don't want the yolk. turns out, eggs are back on the good for you list, so don't be shy about including the yolk, especially if you don't eat meat, or not much meat. Egg yolks are a great source of the essential vitamin B12.
1 teaspoon Baking Powder. If you want your pancakes to be more crepe like, then leave the baking powder out. Either way, they are delicious.
1/4 cup water, or however much makes your batter the thickness of your choice.
1 tablespoon unrefined cold pressed coconut oil for cooking the pancakes.
1/2 mashed banana
To Make:
Mix all ingredients except the oil in a bowl.
Heat the coconut oil in a skillet or griddle.
Drop batter by spoonfuls into oil and cook over medium heat, turning when bottom side is golden brown. I like mine just a little crunchy because the coconut oil turns them the best consistency!
Toppings
Strawberries, blueberries, and banana slices
Butter
Manuka honey or real maple syrup. Use sparingly if you are watching you carbs. they contain natural sugar, but it is still sugar. I skip these most days and rely on the sweetness of the berries.
A dollop of Greek yogurt if desired.
Variations:
Add organic dark chocolate chips to the batter to make chocolate chip banana pancakes.
Add a couple of tablespoons of peanut butter to the batter to make peanut butter banana pancakes.
Add 1/8 cup coconut flakes to make coconut banana pancakes.
Just remember, watch the add ins because they also add calories and carbs. Sometimes, though, you just gotta splurge and have some chocolate chip peanut butter banana pancakes! That's what Im talking about!
Enjoy your banana pancakes and have a happy beautiful life!!!